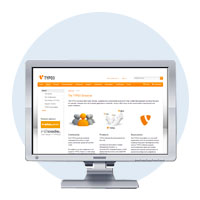 We offer cost-effective implementation of TYPO3. This can be creation of Web site from the ground up, or relaunch of your existing site with TYPO3 as Content Management System.
In most cases small-medium size project can be done for €1000 - €3000 in 2-6 weeks. Price depends on needed functionality, amount of templates, complexity of navigation and amount of content (if you need content migration).
For typical project we do customization of 1-4 existing extensions and in some cases – creation of simple TYPO3 extensions.
Design of the site can be different project, which is not related to TYPO3-implementation. Of course, if you decide to order design from us, design will use all advantages of TYPO3 (user-friendly and easily changeable navigation, changeable content blocks etc).